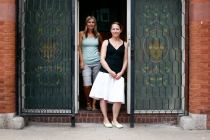 Paperwork Gallery is Dana Reifler and Cara Ober.
Paperwork Gallery is dedicated to exhibiting high quality artwork on paper, selling original works at an affordable price, and creating opportunities for artists and art collectors at all levels.
Paperwork is located at 107 E. Preston Street, Baltimore, MD 21202.
Hours: by appointment.
Email Contact: paperworkgallery@yahoo.com
(photo credit: Arthur Soontornsaratool, Locus Magazine)